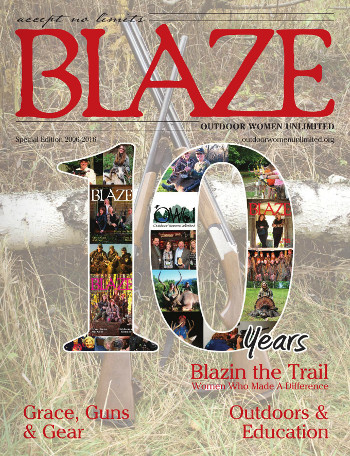 For the past 10 years, Outdoor Women Unlimited has been dedicated to providing women and families with the education and the excitement of the outdoor experience through teaching outdoor life skills, sharing the knowledge of our natural resources, while building self esteem, strengthening individual character, and promoting self-reliance in a safe and professional environment.
In this special issue of BLAZE magazine, we are pleased to showcase the past 10 years of Outdoor Women Unlimited and its achievements.
In this issue:
Blazing the Trail - From past pioneers to today's trailblazers…
Remembering Bobby Jo Parsons - An extraordinary woman who blessed our hearts with grace and adventurous spirit.
Spotlight - The mission of Outdoor Women Unlimited.
Travel and Trails - Ghost hunting the elusive turkey.
Outdoors & Education - The need for better crankbaits.
Grace, Gear, & Guns - Tips for a sale and uneventful trip.
Cooking, recipes, gear, and more!
View the full issue of our 10 year Anniversary Issue of Blaze today!
Want your own copy of BLAZE?
Sign up TODAY and receive the full issue in print!