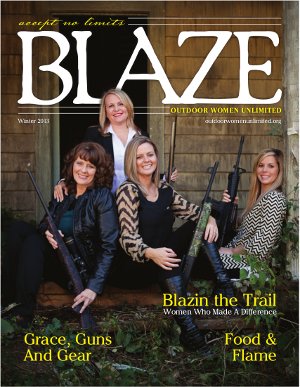 Outdoor Women Unlimited is proud to announce its official publication BLAZE magazine. Our first issue of BLAZE magazine was published January 2014 and features articles about women and their outdoor experiences. Great stories that will inspire women to "accept no limits" by challenging them to venture into the outdoors through hunting, fishing, shooting, camping, cooking, and more!
In this issue:
Blazing the Trail - Women Who Made a Difference
OWU - Making a Difference
Bowhunt Across Africa
Gardening, cooking, recipes, gear, and more!
We are excited about our first issue of BLAZE magazine and think that you will be too! View the full issue of the Winter 2013 edition of BLAZE magazine online for FREE!
Want more BLAZE?
Sign up TODAY and receive this issue and future issues in print!