blaze [bleyz]
noun
1a: an intensely burning fire.
1b: intense direct light often accompanied by heat .
1c: an active burning; especially: a sudden bursting forth of flame.
2: something that resembles the blaze of a fire: as a: a dazzling display <a blaze of color>.
2b: a sudden outburst .
3.  (v) - an accomplishment of a task, challenge, or goal in an outdoor activity:  to harvest a trophy game; to break a target or clay; to hit a bullseye; to catch a trophy fish <blazed the turkey> <blazing through the clays>.
Editor's Note
Outdoor Women Unlimited: A Tradition
"The break of dawn is hope…encouragement…motivates challenge…education drives success"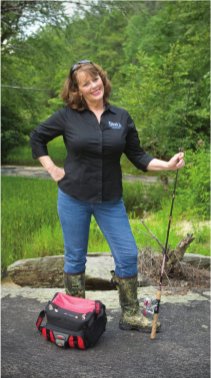 As an outdoor enthusiast, the excitement in  "breaking my first clay, hooking my first bass, or harvesting my first rack buck empowered my adventurous spirit. My desire to continue to develop my skills became addictive. My driving passion to create an organization for women that support diverse outdoor education activities and to provide opportunity for advancement motivated my efforts and basically, Blazed the Trail!
Humbling my thoughts provided me the insight to premier the women who pioneered the journey for opportunity…The Women of the West. My perception of women of the west focuses on the stories and films of the Old West. Being recognized as pure, self-sacrificing supporting characters was only a shadow of the reality. Women of the West were more than wives and domestic engineers, teachers and healers. When settling, men cultivated and established the first means of order. Then the ladies became the "land tamers." Creativity was a gift that became a lifeline for the family. The vast, infinite aura of the plains was extremely intimidating. However, "accepting No Limits," the rustic nature of a prairie cabin, became a home, school and a church.
Blaze introduces four women who made a difference in the Old West just as women of the plains; their patience strengthened their pursuit to overcome and reach their goal. Welcome to BLAZE!