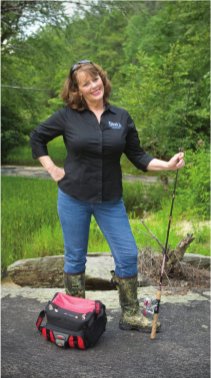 "A small body of determined spirits fired by an unquenchable faith in their mission can alter the course of history."
- Gandhi
As Executive Director, I am extremely excited to introduce our outdoor interactive educational program for women…Outdoor Women Unlimited…Accept No Limits which is bringing women and the outdoors together! We have just completed our fourth year and what a fantastic year it was…and we are still growing! We are a qualified 501(c)(3) organization, therefore, all your contributions, whether in cash or gifts in kind, are tax-deductible.
Outdoor Women Unlimited (OWU) is an organization dedicated to providing women and families with the education and the excitement of outdoor experiences through teaching outdoor life skills, sharing the knowledge of our natural resources, building self-esteem, strengthening character, and promoting self-reliance in a safe and professional environment.
With continued generous support of our sponsors, Outdoor Women Unlimited has mainstreamed our unique program design in educating women in outdoor life skills while building their knowledge in natural resources and conservation; in minimizing costs to encourage membership growth and participation for all women; in establishing a scholarship program for women; in providing outdoor events that will strengthen and support family participation while ensuring a safe and professional environment with applicable accommodations and materials for women.
The events held throughout the year by OWU are built off a main event, the Southern Classic. The Classic gives women the opportunity to experience and explore the vast array of outdoor activities provided throughout the weekend. After the Classic, OWU takes the most popular events and designs secondary events held throughout the year that cater to each activity. The activities are chosen through evaluation forms, participation levels, and expressed interest by our members.
These secondary events allow our members to grow and enhance their skills in a particular activity. The goal of the primary and secondary events are to educate our members through additional education, skill and training in order for theses members to advance in their skill level. Through the program OWU offers, a novice outdoors woman can be introduced to an outdoor activity at the Classic, increase her knowledge of the activity through the secondary event held during the year, and develop an advance level of training and skill to allow her to seek her own personal goals in this field.
All event proceeds are for the sole purpose of the growth, education, and development of OWU.
Membership dues are $35 per year. Individual memberships will receive a one year subscription to the OWU newsletter, a car decal, a membership card, and event discounts. Sponsor memberships include one year subscription to our OWU newsletter, a car decal, and additional opportunities based on level of sponsorship. In addition to our regular membership level, OWU has created a program for girls ages 10-14. This program is Lil Bits and is designed to introduce young girls to the adventures and excitement the outdoor has to offer.
The unique model of our program offers a tremendous opportunity for our sponsors both currently and in the future. Our members are very diverse they are mothers, daughters, sisters, executives, lawyers, doctors, professionals, stay at home mothers, married, single, divorced, widowed, and empty nesters. However there is one commonality which unites our members, it is their love and passion for exploring and learning new skills in the outdoors. Currently women control around 66% of the private wealth in our country and 90% of the household budget. Women are starting business twice the rate of men and these businesses with revenues of $10 million have increase by 40% over the past 10 years. With the staggering facts it is evident that we offer our sponsors an exclusive opportunity to market their product to women nationwide, who are interested in the outdoors and who are also connected to other members of their family and social circles who participate in outdoor activities. Resulting in a front row seat to market to an unchartered territory of outdoor enthusiast eager to explore and purchase new and excited products in the outdoors.
Through the support of our members and sponsors, our vision to build into a national non-profit organization while promoting education and participation in hunting, fishing, and many other outdoor activities for women, will create the cornerstone for the successful growth and development of OWU.
Sincerely,



Rebecca Wood
Executive Director